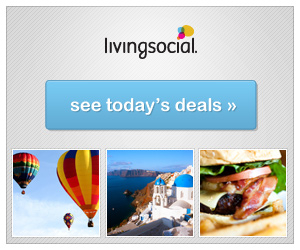 **Update:  This Sams Club Membership deal is now over – check out the other deals you can snag from Living Social here!
**You can still get in on this deal!  My hubby just snagged us a membership this morning!  If you are still undecided, read the comments below….that's what made me take the leap 🙂
Now that we don't earn foodperks for getting gas at Get Go, I may end up getting gas at Sam's Club if it's cheaper and get gas at Get Go when I have fuelperks to redeem!  For a little over $5 (after the $20 gift card and food vouchers), you really can't lose!
Here's the deal……..
Living Social has a HOT Deal today!  Log-in to your account or Sign-Up here to get started.
Then, Click on the Sam's Club Deal to purchase everything below for just $45 (valued at $79.84)!
• One-year Membership package
• $20 Sam's Club gift card!
• $19.84 in food-service vouchers including: Artisan Fresh Rotisserie Chicken, a 16″ Artisan Fresh Take-and-Bake Pizza, and two boxes of 6-, 12-, or 24-count Artisan Fresh Cookies!!
So you basically get back $39.84!  What an awesome deal if you want to give Sam's Club a try 🙂
I have friends who shop there a lot and love it!  I'm still deciding what to do.  I know that on most items I can get a better price by using coupons at Giant Eagle and other stores, however, I'm sure there are times when their prices are better.
If you have ever shopped there, help me (and others) out 🙂  Do you think having a Sam's Club Membership is worth it?